Running a successful WordPress website does not stop with just choosing a theme, setting up a website, and publishing your content. You need to take some extra effort to be able to reach your target audience and get them to visit your site.
Given the current user dynamics, SEO is probably the best bet to boost web traffic to your site. And when you dive deep into SEO, you will see that many of your tasks can be hugely simplified and made easy with the help of tools like keyword analysis tools, keyword rank checker tools, backlinks analysis tools, and so on.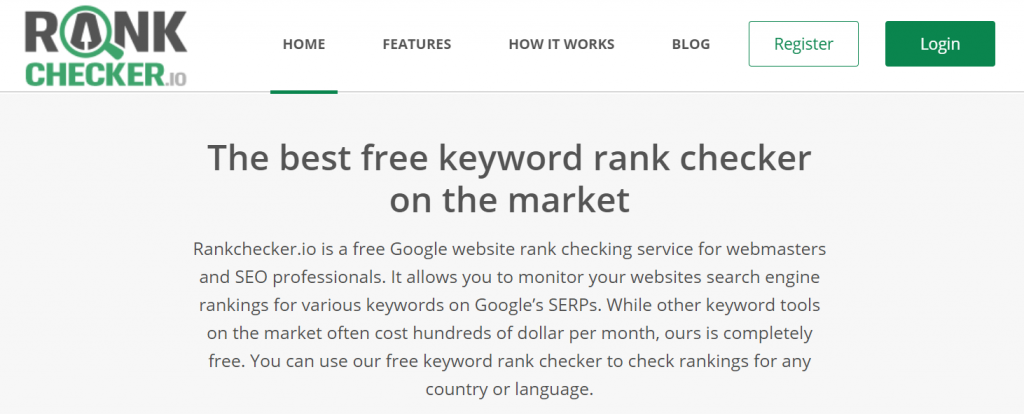 Take a little time to read through this article to know about one amazing rank tracker tool that lessens your burden and leaves room for more efficient SEO for your site.
What is SEO and why do you need to Track Ranking?
SEO is search engine optimization, which refers to all tasks and activities you do to ensure your WordPress site gets into the top positions of a search result.
It starts with choosing a suitable domain name for your site and crafting content carefully to conform to the best SEO practices. SEO helps you get the best ranking in the relevant keyword searches. Don't let the technicalities scare you into thinking SEO is some rocket science.
It is rather easy but demands a consistent effort from a webmaster. Here are some common SEO related tasks that you will have to do:
Tracking your keyword ranking and search engine positions
Removing duplicate contents
Fixing navigation and UI of your site
Using responsive design
SEO analytics such as google analytics setup
Keyword research
Creating a user persona and targeted content
Meta tags and title tags optimization
Setting up Backlinks
Competitor analysis
And finally, most importantly, keep learning SEO tactics and trends.
Out of all the takes mentioned above, rank tracking is something that takes priority by default. Because that's how you can measure your progress and the SEO performance for each keyword you choose to work on.
Unless you have an efficient method to track your keyword positions, you will not be able to take the right steps towards better SEO.
Why Use Rankchecker.io?
There are two ways you can track your ranking. One is the age-old manual way where you enter your keywords and search for them and figure out where your WordPress site gets placed in the search results. There are many reasons that this manual approach can go wrong:
It is time-consuming and takes a lot of effort.
It may not be accurate and does not provide in-depth information
It takes many iterations to get ranking details with respect to location, language, and the user device.
It is simply not efficient to stick to manual rank tracking. But when you seek the help of tools, though you have many choices, most of them provide limited functionality, and premium tools can be too costly for your purpose. But RankChecker is unlike any other Google rank checker. It is completely free and provides a load of features that will suffice all your rank tracking needs.
RankChecker.io Features
Here are some features and advantages provided by RankChecker.io.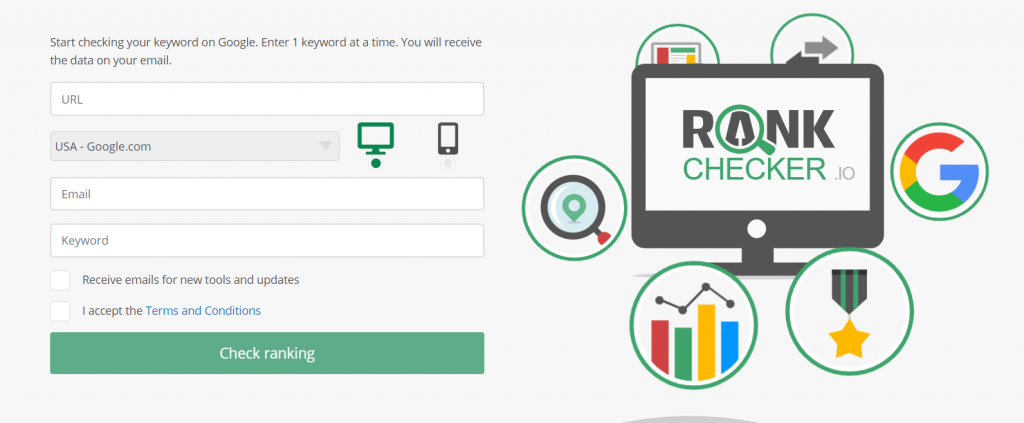 Free of Cost
RankChecker is a completely free keyword rank checker that lets you run domain or page rank tracking any time of the day. You can create a free user account and run up to 50 keywords at once and for up to 5 target websites.
Google Specific Rank Analysis
Google is the leader in the search engine market, and RankChecker is solely designed to work with Google. It updates itself to reflect any changes to the Google search algorithm and makes sure to give accurate results for every query made
Easy to Use
Using Rank Checker requires no prior programming or technical knowledge. You can just enter your keyword, the URL of the domain, your language, location, and device preference, and get the details sent to your email address with a single click.
Data-Driven Approach
RankChecker excels in the accuracy of its data reports. It does not make any guesses but only works on real data, thereby ensuring a high level of accuracy.
Competitor Analysis
RankChecker's new feature lets you check competitors' keywords and find ways to get ahead of your competition. You can compare the search positions of your competitors' keywords and figure out the best way to get a better ranking.
Automatic Daily Updates
By embedding a RankChecker badge into your site's footer or sidebar using WordPress widgets, you can get daily updates to any changes in your keyword positions. The reports will be sent to your registered email address.
Location-Specific Results
Google search results tend to differ based on the user's geographical area. RankChecker considers this factor and provides you with location-specific ranking details, so you can see the reach of your site in the location you want.
 Similarly, RankChecker also provides language-specific results as well.
Is it worth a try?
So, if you ask us if this website rank checker is worth a try, well, definitely, it is. RankChecker is free of cost, provides daily reports, and is extremely easy to use. We see no reason that you shouldn't be using it!
You may like our article on the best and free website hosting providers.