Do you want to start a website and search for a hosting service provider? The search is over we are here with the best free WordPress hosting service for a startup.
WordPress hosting is the factor that creates a good environment for every user no matter the old or new one. The first thought that comes to our mind is what is WordPress hosting?
WordPress hosting is hosting that can be used to better meet WordPress performance and security needs. To build a healthy and secure website ewe need a hosting service we are here with some best free WordPress Hosting service providers for the startup.
Best WordPress hosting is the key factor to increase the traffic on the website. Thus, you need to choose the best of the best web hosting.
Let us get started,
Word Place
WordPress is one of the best free WordPress hosting services. You will get 500MB free space, unlimited visitor numbers, unlimited plugins, and free SSL as well.
If you are going to make a new website for personal blogging or looking to learn about web hosting, Word Place will be the best option for you.
Features
Free 500 MB Space
Unlimited Visitors
Perfect hosting for WordPress
Very simple and user-friendly dashboard
Signup for free and start using
Positives
Powerful features for WordPress sites
Elegant and easy to use Cpanel
Simple WordPress setup
Upgrade to premium services for added features
Negatives
Space is limited for dynamic websites
Support is limited
---
X10hosting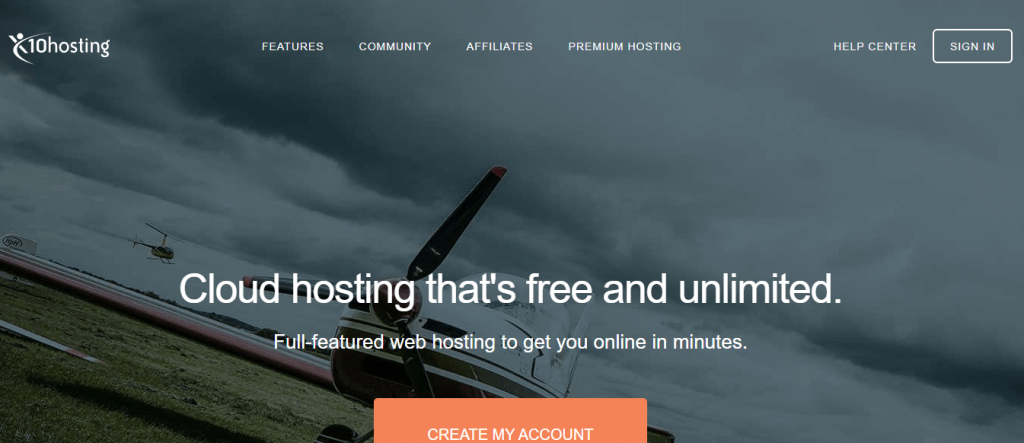 X10hostng has been providing its services since 2004. It is a cloud-based host that stores content in the cloud. It is a good option for a free WordPress hosting service provider for a startup.
It provides unlimited bandwidth, full control panel excess, and a WordPress auto-installer to help us jumpstart. X10hosting provides unlimited cloud hosting with SSD servers which generally comes with premium hosting providers
Features
100MB-2500MB disk space
FTP, Browser, SiteCopy upload option
CGI, PHP, SSL FrontPage Extension, Perl, Python supported scripting
Use subdomain or our own custom domain
Full server access
Positives
We can have a customized domain name or can choose among five free subdomains.
Have 512MB storage at the start, and give more space according to our need.
X10 hosting works for high-traffic sites.
Full access to control panel
Negatives
X10hosting have limited signup locations and don't allow VPN
---
000WebHost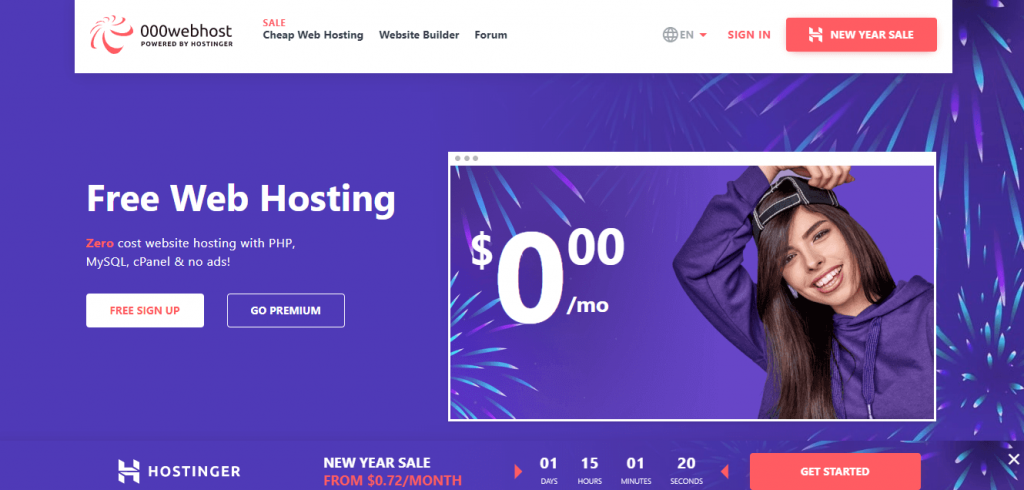 000Webhost is a great option for a free WordPress hosting service provider for the startup. It is developed by Hostinger and is very easy for the beginner. 000Webhost covers two websites and also offers 2 MySQL databases and a free website builder. It can be converted into premium hosting if requires very little costings.
Features
1GB disk storage space
Free subdomain
10GB bandwidth
Free FTP and File Manager
CGI and PHP
Free site builder
Positives
Receptive customer support
No advertisements and free WordPress hosting
Quality servers
Negatives
May have downtime for an hour daily
Continuous notification to upgrade to Hostinger, the paid ones.
---
AccuWeb Hosting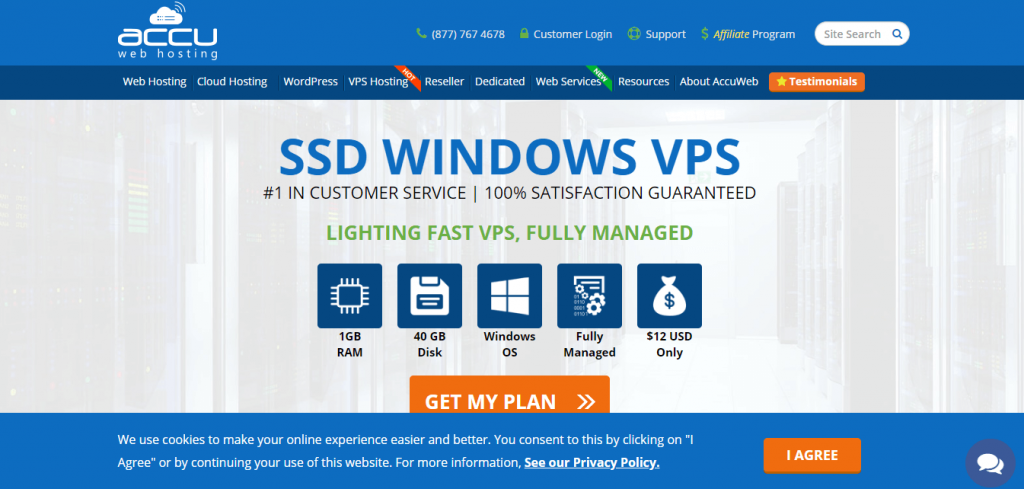 AccuWeb Hosting is a US-based free WordPress hosting service provider for a startup company. It has been providing its services since 2003.
AccuWeb Hosting offers the latest technology and effective customer support and has services like shared hosting, VPS hosting Cloud hosting, and dedicated servers for both Windows and Linux.
Features
Provides 2GB storage and 30GB bandwidth
5000 visitors per month recorded
Good SSD drivers and flash fast websites
PHP7 and HTTP/2 support
High Security and WordPress optimized
Backup of Website
No ads
Positives
Have own domain name
Customizable dedicated server and VPS hosting plans
Effective customer support and good uptime
Economical
Negatives
Confusions for new users due to a large number of plans
Automated management may dissatisfy WordPress developers
---
AwardSpace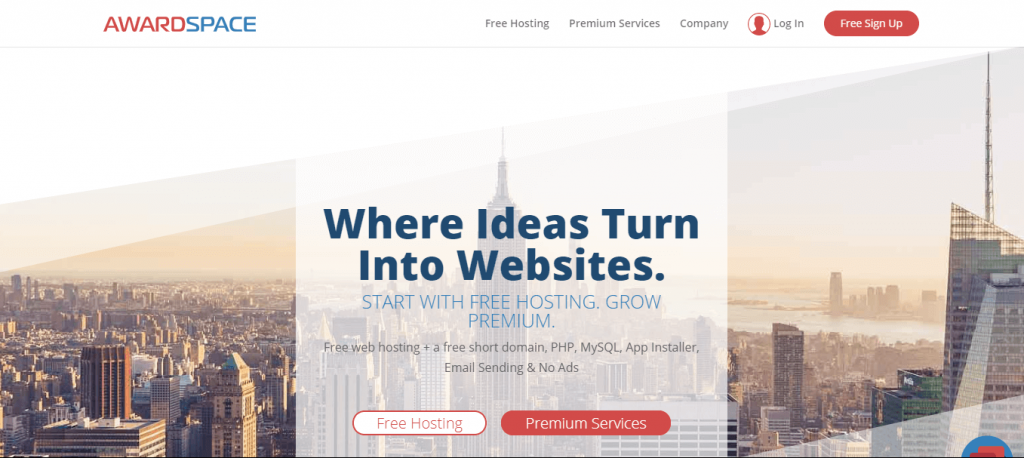 AwardSpace is a flexible and customizable free WordPress hosting service provider for a startup. It is developed by the collaboration of Zetta Hosting and Attractsoft. It offers free and shares VPS hosting.
It is famous for offering free PHP and MySQL hosting with no banners and no expiration date. Being green is one of its key features as it uses wind energy
Features
1GB disk storage
provides hosting for 1 domain and 3 subdomains
5GB bandwidth
Inbuild website builder
Guaranteed uptime
24*7 dedicated support
99.99% of uptime
Positives
Free dx[dot] am Domains to all
Supportive staff
Attracting free plans
30 days money-back guarantee if upgraded to premium
Negatives
MySQL has a limited database size of 30MB
Free hosting plans have minimum features and power
---
FreeHostia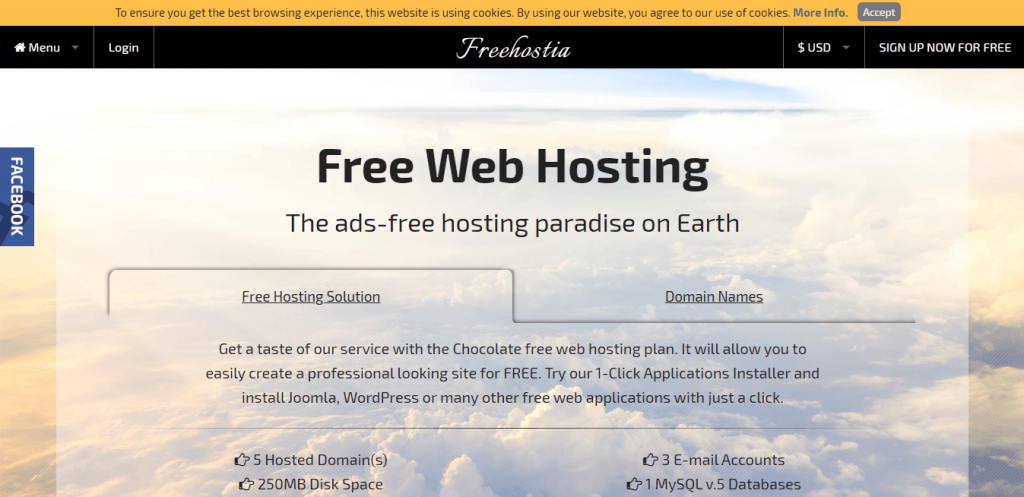 Freehostia is a fast-growing free WordPress hosting company and service provider for startups and big companies too. It was founded in 2003. It offers five hosted domains, 3email accounts and supports the MySQL database. It is low cost and advertisement-free hoster with attractive speed when upgraded to premium.
Feature
250MB of disk space
6GB of monthly traffic
24*7 customer support
Function and integration of eCommerce is possible
10MB of SQL storage
No setup free
Positives
Offers domain and hosting services in multiple data center
Fulltime online support
High-speed server network
Ensure online stability
Negatives
lagging customer support in free hosting
SQL database is low
---
ByetHost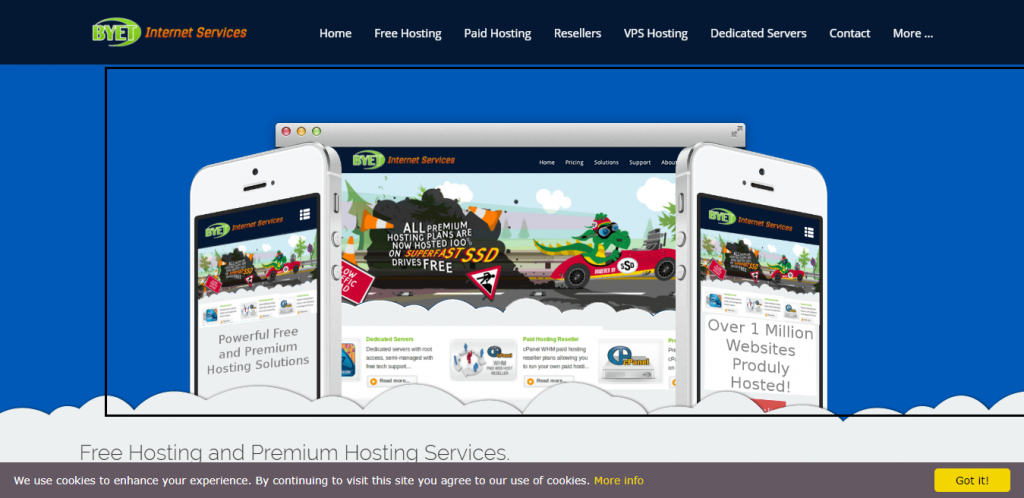 Byethost is a free WordPress hosting service provider for a startup offering a strong and well-balanced platform. It is highly recommended WordPress hosting has reliability and speed with excellent subdomains. It is an optimum option for anyone looking for a good and adds a free hosting provider.
Features
Free Community Access
Full Access to control panel
File manager and FTP account
All free domains having Https SSL
Awesome Customer support
Addon domain, Parked domain and subdomains
Positives
Speed and network quality
Load balanced clustered network
Full control panel access
Space provision with sub-domain
Negatives
Limited support for free hosting
No inbuilt website builders
---
100WebSpace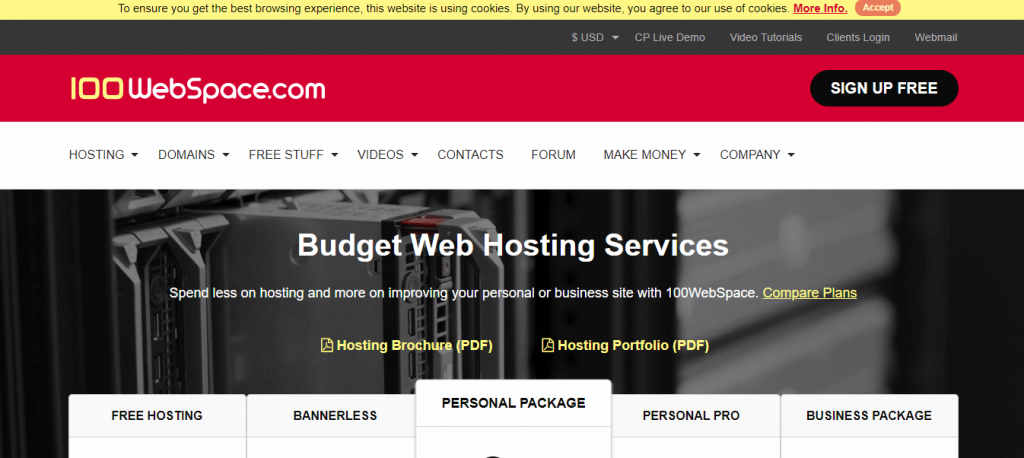 100 is a free WordPress hosting service provider for startups well known for its budget and risk-free hosting. It is one of the fast and beginner-friendly platforms. 100webspace is allowing to launch the content or multimedia content within a few minutes with few clicks. Founded in 2004 100weebspace is a trusted and fast-growing company.
Features
Disk space of 100MB
3GB bandwidth
multilingual control panel
24*7 customer support
99.99% uptime
one-click application installer
Positives
Dedicated Ip address
User-friendly control panel
stable and high-speed servers
antivirus protection
Negatives
free domain registration is not allowed
A Trial is not allowed
---
CloudAccess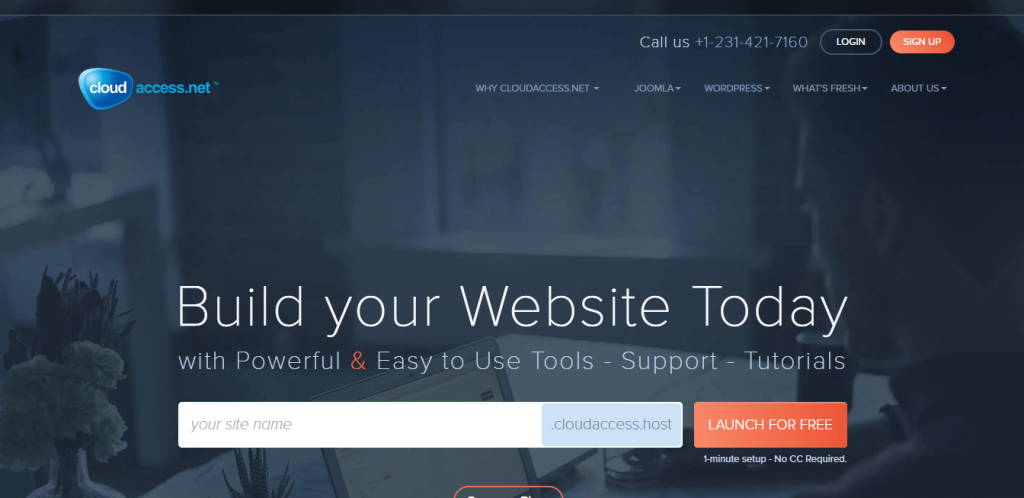 CloudAccess is an Open Source free WordPress hosting service provider for big and small companies. It is famous for its exciting and free features like Cloud Control Panel, site replicator, and App Snapshot. CloudAccess keeps our data updated and backs it up daily.
we can upgrade to the premium version if required. It provides free training and support to starters
Features
Immediate installation and launch
Free subdomains
Fully accessed MySQL
500MB disk space
Unlimited bandwidth
Unlimited email address
Positives
Open-source hosting
Awesome control tools
Affiliate programs
Expert support
Negatives
Limited to subdomains
Suspend website without notice if their rules are violated
---
Biz.nf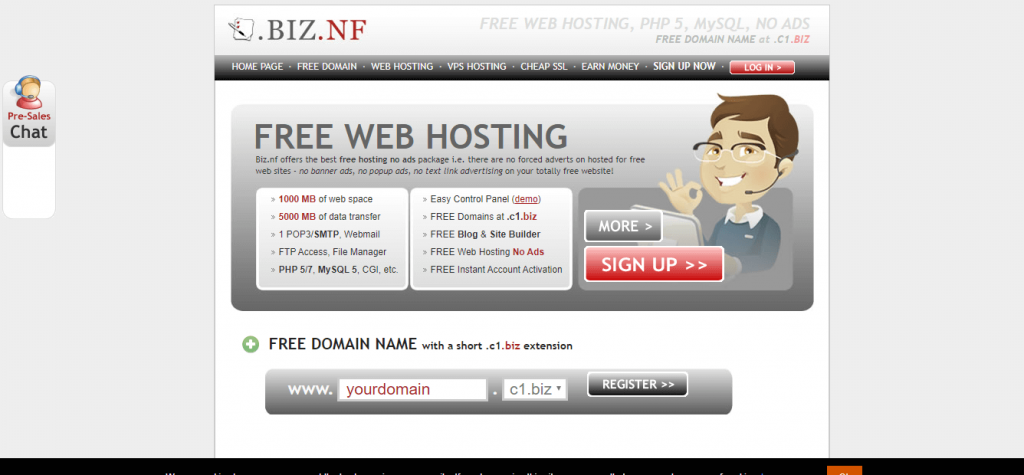 Biz.nf a free WordPress hosting provider is has been offering trusted and free services since 2008. It provides enough services to make our website creative and attractive. one-click installation. One-click site builder, advanced PHP, MySQL, and CGI solutions are excellent features. It registers a free domain name with .co.nf extension. It is a green hosting company as it is fully operated by wind energy.
Features
1GB of disk storage
3 free domains
5GB bandwidth
1email account
Positives
Free website builder
Green Webhosting
Awesome features
Negatives
The free hosting plan offers a smaller package
limited uptime and response time
---
WPNode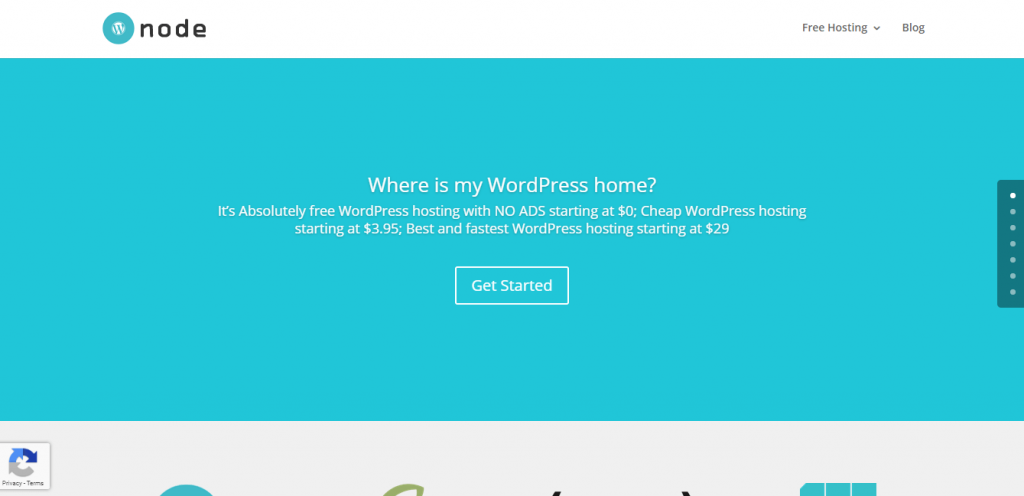 WPNode is a free hosting provider to WordPress with super speed and powerful security alternatives. WPNode has very attractive features like no ads, no contracts, and no strict rules. It has high SSD storage space and unlimited site hosting. It has an inbuilt W3 total cache plugin to support starters.
It gives full control over the database and great upload and downloads service through SFTP and provides unlimited data transfer.
Features
Spam and Adds free hosting
Complete control over PHP platform
1GB email-based Roundcube for free
Strong security
limitless WordPress sites
Positives
Super speed
Professional level security
Free Global CDN through Cloudflare
Negatives
We don't have any choice of hosting.
Limited support for free hosting
---
Conclusion
The above list is taken according to the basic requirements for WebSite development. Every free hosting provider is of the same potential. we can choose as we require. we can create and manage our website with the help of hosting providers.
For beginners and learners, a free WordPress hosting provider is good to start. After being professional premium hosting providers are highly recommended for better services as the premium packages are more professional.