Forgetting a strong website, you just need to use a powerful plugin which will customize your theme in an elegant way. It can turn your simple website into a fully functioning e-commerce store, social network or forum. Among thousands of free theme present in WordPress directories, today we came with one of the most powerful plugins know as WP Event Manager, best event management WordPress plugin. This plugin will make your website to a complete event portal with few clicks.
WP Event Manager, as a name said it will help to add the events with details of it. This is a lightweight and multipurpose plugin which is even free of cost. It is very useful for creating, displaying, and managing event listings. There are various other plugins which are available for WordPress event management, however, WP Event Manager is best among them because of its simplicity, features, and compatibility.
In this blog post, I am going to share you about why this plugin is best among all the other plugins. Before diving into its several features let us describe its key feature to make you familiar with this amazing plugin.
Key Features
Cost: Free
Active Installs: Over 3000
Rating: 5 out of 5 star
Type: WordPress Plugin
Besides that, WP Event Manager the best event management WordPress plugin has an easy user interface, developer friendly codes and responsive in design.
Why choose WP event manager?
You might be thinking why I am recommending you to choose WP Event Manager for the next website or your existing one. Be patience and go through these points, you will get your answer. I can assure you after knowing about the facts you cannot stop yourself to choose this one.
Let you drop your event anywhere in the WordPress site
Offers you plenty of Template tags
Fully responsive
Cross-browser support like Chrome, Firefox, Safari, and many others.
Fully compatible with SEO plugins
Provides you with the amazing browsing experience
Live preview customization
You are free to associate your event with email.
Enable you to add event location
Powerful custom Widget for respective Widget areas
High priority and dedicated support.
Speed dating event
Main Features of WP Event Manager Event Management WordPress Plugin

Developer Friendly
WP Event Manager provides a friendly environment to the user as it is created with clean and clear codes. The plugin has a well-managed development base with easy to use documentation. So no one will feel any difficulties regarding its code and features.
SEO friendly
Search Engine is one of the most important factors for the success of any website. WP Event Manager is developed with SEO in mind as it is fully compatible with SEO plugins like Yoast and All in One SEO. These plugins keep your website at the top rank in the Search Engines like Google, Yahoo, Bing and so on. If you want to increase the traffic on your site then you can also customize and expand its contents.
Cross Browser Support
Likewise, WP Event Manager has support from several cross-browser. This plugin is tested clearly and well-attuned with all primary browsers. They are also compliant with the primary web standards. Some of its compatible browsers are Firefox, Chrome, Safari, Opera, and Edge.
Event Shortcodes
WP Event Manager offers some shortcode to show event details, page and for another purpose. You can perform all the tasks with a single code. Some of the shortcodes of these plugins are:
Event Submission Form
The single Event Listing
The Event Dashboard
The Event Summary
The Event Listing
Live preview
It is one of the best features for any powerful website. Now you can customize the content, color, image, and frame and see its immediate preview. This will show how your website looks when it is online so that you can change the altered things and can re-customize for better result.
Premium Add-Ons
This is a free version of WP Event manager. You have to pay no cost for it. But there are some premium add-ons which will be very useful for your site. It will make your business event site more comprehensive and powerful. Some of those Add-Ons are listed below:
Registration
Sell Tickets
Calendar
Google Map Manager
Event Attendee Information
Embeddable Event Widget
Bookmarks
Alerts
Slider
Event Tags
Support and Documentation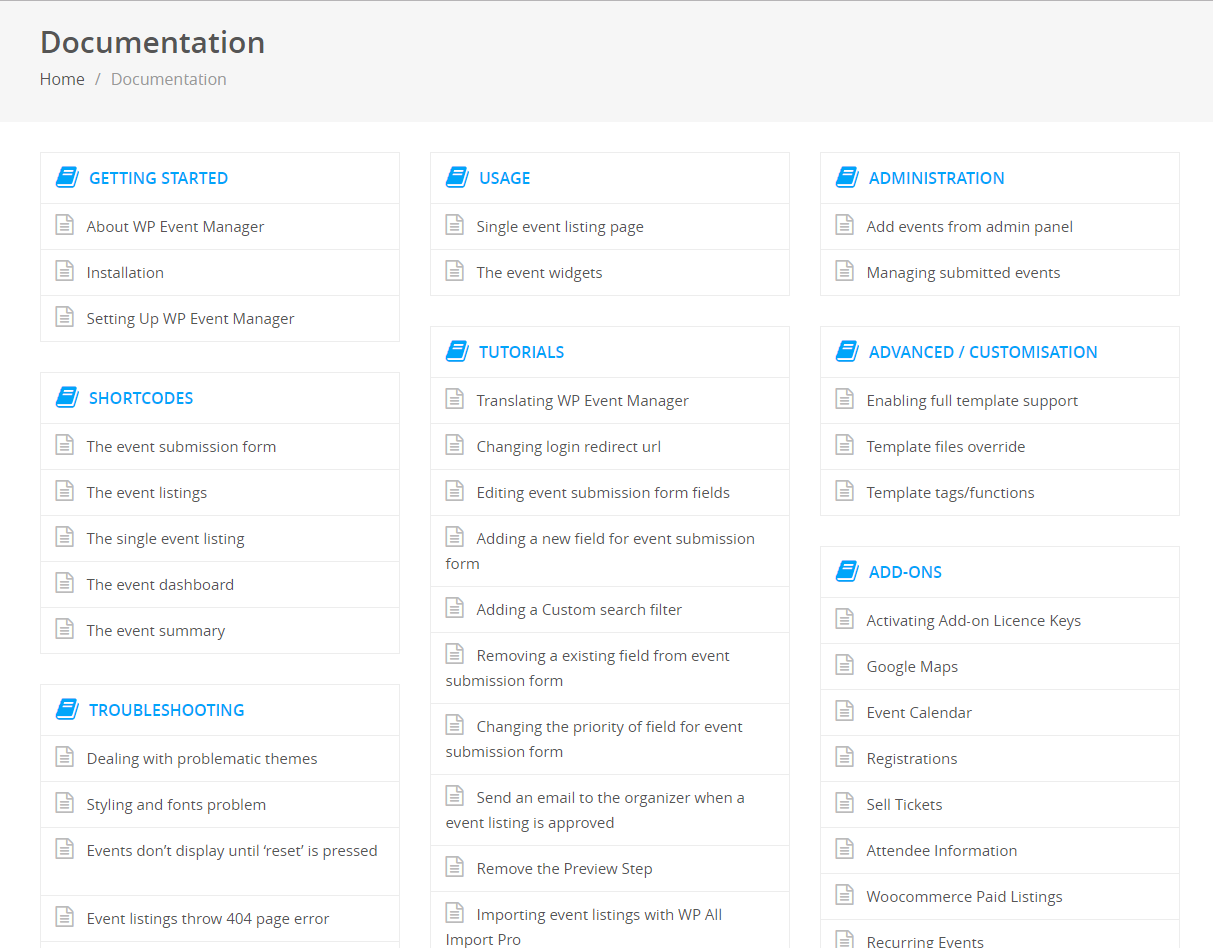 WP Event Manager is one of the best event plugins which provides will dedicated support team. The team is available for all type of support. Thus, you can send your problems and queries to them, they will soon return with your solution.
Similarly, if you are getting confused or have no knowledge about the plugin, you can refer its documentation which is explained with well-detailed description. Hence even a layman can deal with this event plugin.
What is the purpose of using WP Event Manager?
Among the ample of reasons using this awesome and meticulously developed event management WordPress plugins, here are some best reasons among them.
To show job fairs to the people in their respective areas
Speedup events dating
Ticket selling with the help of WooCommerce add-on
To make school board calendar
To show and manage fitness and exercise events and programs
Helps to organize a local meetup
How to Install WP Event Manager?
You can install this plugin with some few simple steps. Let's have a look once:
Visit the WordPress Admin Panel
Go to Plugins and select Add New button
Search for WP Event Manager and press enter
Click on Install Now button
Once the plugin installed, click on "Activate".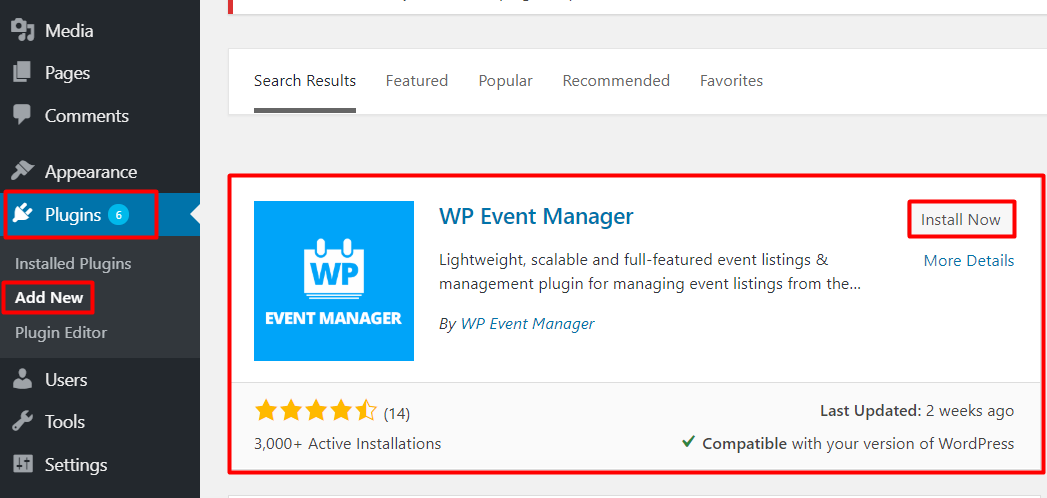 Adding Event to your site
As this WP Event Manager Plugin is used to manage and add an event to your website, let see how to add a new event to your site. Follow these simple steps, I am sure you will able to add an event to your site.
Go to Event Listings from admin panel.
From Event Listing go to Add New
Add event title at the top of the event page.
Write details about the event below in the visual editor section.
Below the page, add event data like title, time, price, link, logo, deadline and so on.
You can Add and edit Metadata from the custom field.
You can add single or multiple event types and categories in the right sidebar.
Click on "Publish" to make it live.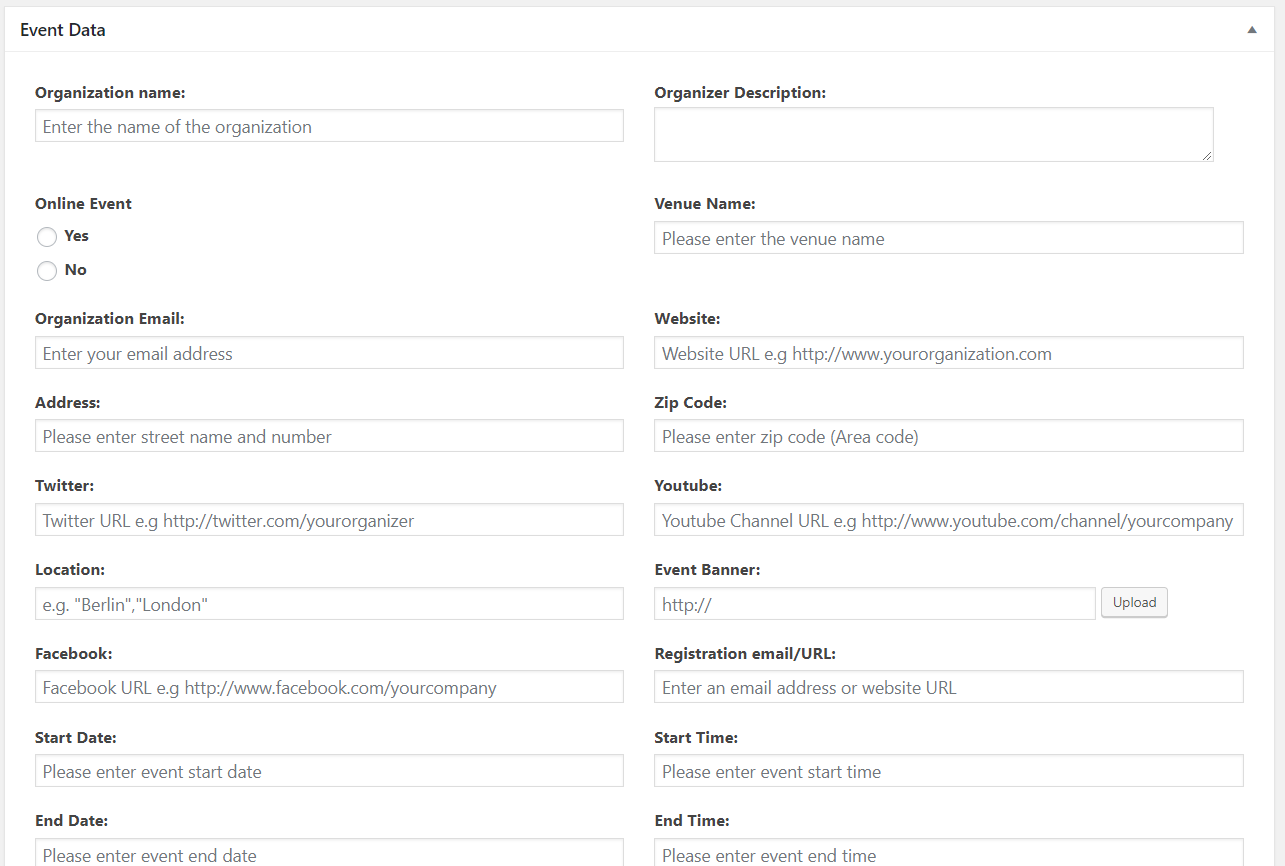 Why Premium Version Addons?
WP Event manager is also available in a premium version with some more advanced features. Let us discuss its additional features:
Provides an event calendar to list out upcoming events
Enables proximity search on your website
Create alerts for saved events
Owl carousel and another type of sliders are available
Google analytic tracking code for your event
Theme Compatibility
Because of the available shortcodes in this plugin, it is compatible with all free WordPress themes as well as other popular premium themes as well. Popular themes like OceanWP, Astra and default WordPress theme is totally compatible with WP Event Manager. Hence, you don't need to worry about it. Just download this plugin and start adding the event.
Conclusion
Hence this is all about this event manager plugin which is one of the best plugins to manage your event in a managed way. I hope this article will be helpful for you and will use this plugin for your upcoming site. The plugin comes with well-detailed documentation, so even a layman can use the plugin very easily. You can refer its writer or video documentation as you like.
It is a dedicated support theme who are available for your all types of support. So you can send your problem to them. Therefore use this WP Event Manager Plugin to add, edit, create, manage and display your event in a managed and attractive way.
For any types of queries, you can leave your comment in our comment box. You will heartily accept all of those and come with your reply as soon as possible. Keep visiting our website for more such useful and interesting articles.
---