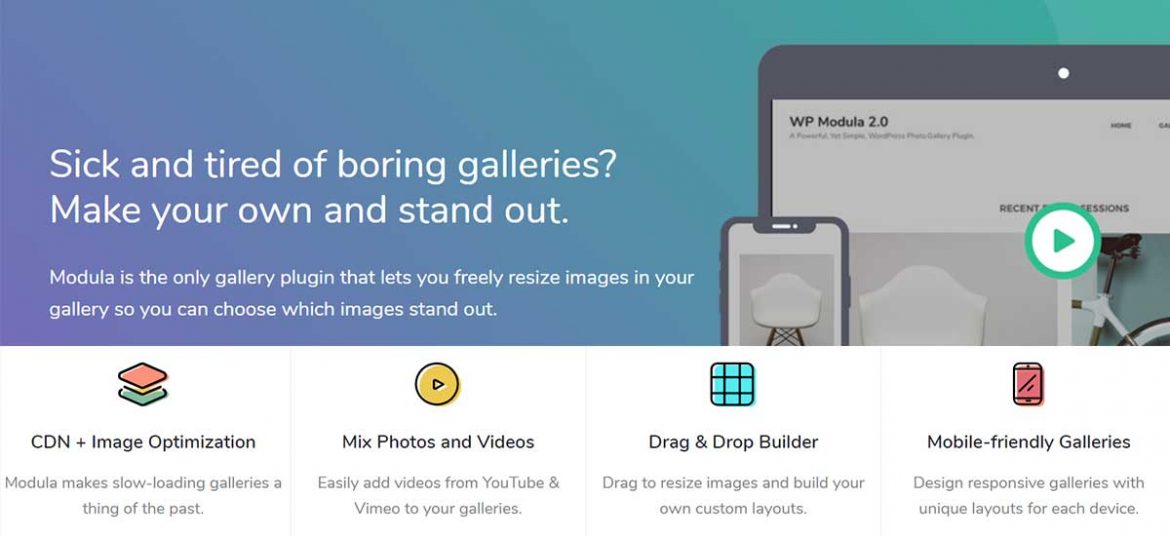 Plugins are a very powerful factor for your site. It can turn your simple website into a fully functioning e-commerce store, social network or forum. It can also add several amazing and advanced features to your website which will really amaze you.
Whenever it comes to your WordPress website, you must be choosy about the plugin. Sometimes being choosy is good as it will give you a better outcome. As you all know that gallery is the highlight of any website, so it must be designed in an attractive and elegant way. Photo gallery plays a vital role in grabbing the user attention and forces them to be connected with your site for a long time. So you should choose the best photo gallery plugin for your website. There are thousands of plugin available in the WordPress directories but you might get confused to choose the best one. So today we came with one of the best photo gallery plugins for your WordPress website which is none other than Modula Photo Gallery.
---
---
Modula is an awesome free WordPress plugin for your photo gallery which helps you to customize your gallery in a very attractive way. The design is just wow which makes the photos look elegant and eye-catching. With this Modula plugin, you just have to set the width and height of the picture and all other tasks are done by the Modula. Isn't it great? The photo arrangement by Modula is inside the website so it looks awesome.
Modula is a user-friendly plugin which can be maintained and operated very smoothly. The plugin allows you to create elegant and lightbox galleries, masonry grids, custom grids and many others with your few clicks. In additional is also available in its premium version with some advanced features to make your website more powerful and attractive. It means you need not to search for another plugin you can simply upgrade your free plugin to its premium version or can buy it if you are not using the free version.
Why choose Modula Photo Gallery Plugin for your WordPress website?
Here is some listed reason which will clear your queries about the Modula Plugin and I am sure you will be forced to choose this plugin for your site gallery.
Provides dynamic and full grid architecture
Showcase your art and picture in an attractive way and make the website eye-catching
More than 50000 active installation
Free of cost
Customize your theme with mobile-friends galleries
Social Media Sharing option
DA dedicated and high priority of support
Let us elaborate some of the features in detail to get more familiar with this gallery plugin.
Fast Uploading
With Modula gallery plugin you can upload pictures as well as videos directly from the YouTube very easily within a few minutes It has an in impressive uploading speed which is very helpful for your website popularity. Even you can add more pictures without any buffering. It will never slow down your website.
Mobile Friendly Galleries

We do not refer to laptop or PC all the times to search for any galleries or websites. So your website should be mobile friendly otherwise your site can lose its sustainability. But not to worry anymore because the plugin has a responsive layout. It means the photo gallery of your website looks awesome in all sizes and resolution of the mobile screen.
Elegant Gallery Design and Format
Modula arranges your photo gallery with outstand format giving an elegant design. It will showcase the pictures and video is a very attractive way which results in more viewers and clients. The plugin is perfect for several types of websites like food and restaurant website, pet blog and many other artistic websites like travel gallery, wedding album gallery.
12 Hover Effects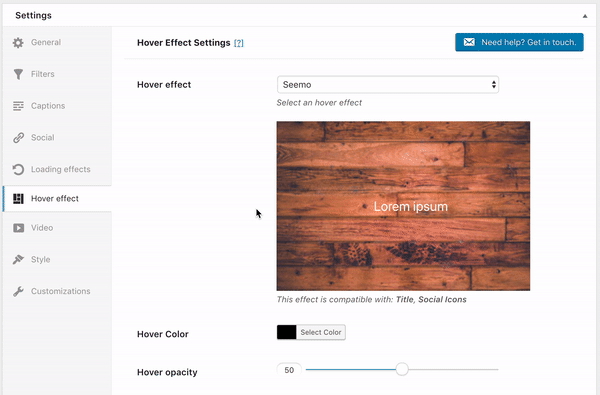 Modula comes with 12 built-in hover effect which is very stunning and creative. It uses increases the traffic to your gallery. These effects make your gallery elegant which can be used with a title, short description, and social icons. Modula will also work perfectly on mobile devices.
Drag and Drop for uploading
Modula offers you features with which you can upload the image with a simple drag and drop. It will also boost your gallery and site. Now you can add your photos directly to your gallery without any copy paste or download process. And mainly it will be very helpful for beginners who are not familiar with its procedure
Besides these, all features let see what makes the Modula different and effective from others:
Art demo
Modula plugin will showcase your artistic and creative work in an elegant format. The plugin provides you with a wide range of flexibility so you are able to customize your gallery by applying your creative artwork.
Food Blog
If your website is for food and restaurant then it will demonstrate your meal in a very spicy way such that shows how much it is delicious. So is the perfect plugin for your food blog and restaurant website.
Architecture
Modula provides an amazing design to your photo gallery giving an outstanding framework. It will arrange your photos in a grid format and add its short description.
Photography Portfolio
Modula is perfect to showcase your photography portfolio in a creative way by adding captions, hover effects, lightbox and so on.
Installation Process of Modula Plugin
To install the Modula plugin you have to go through some simple steps which I have listed below:
Go to the plugins in your dashboard
Click on add new
Choose the zip file of Modula Plugin
Once you fixed the plugin, click on the "Install Button"
While installing, the orange button starts running. You have to wait till it stops
Finally, click on the "Active" button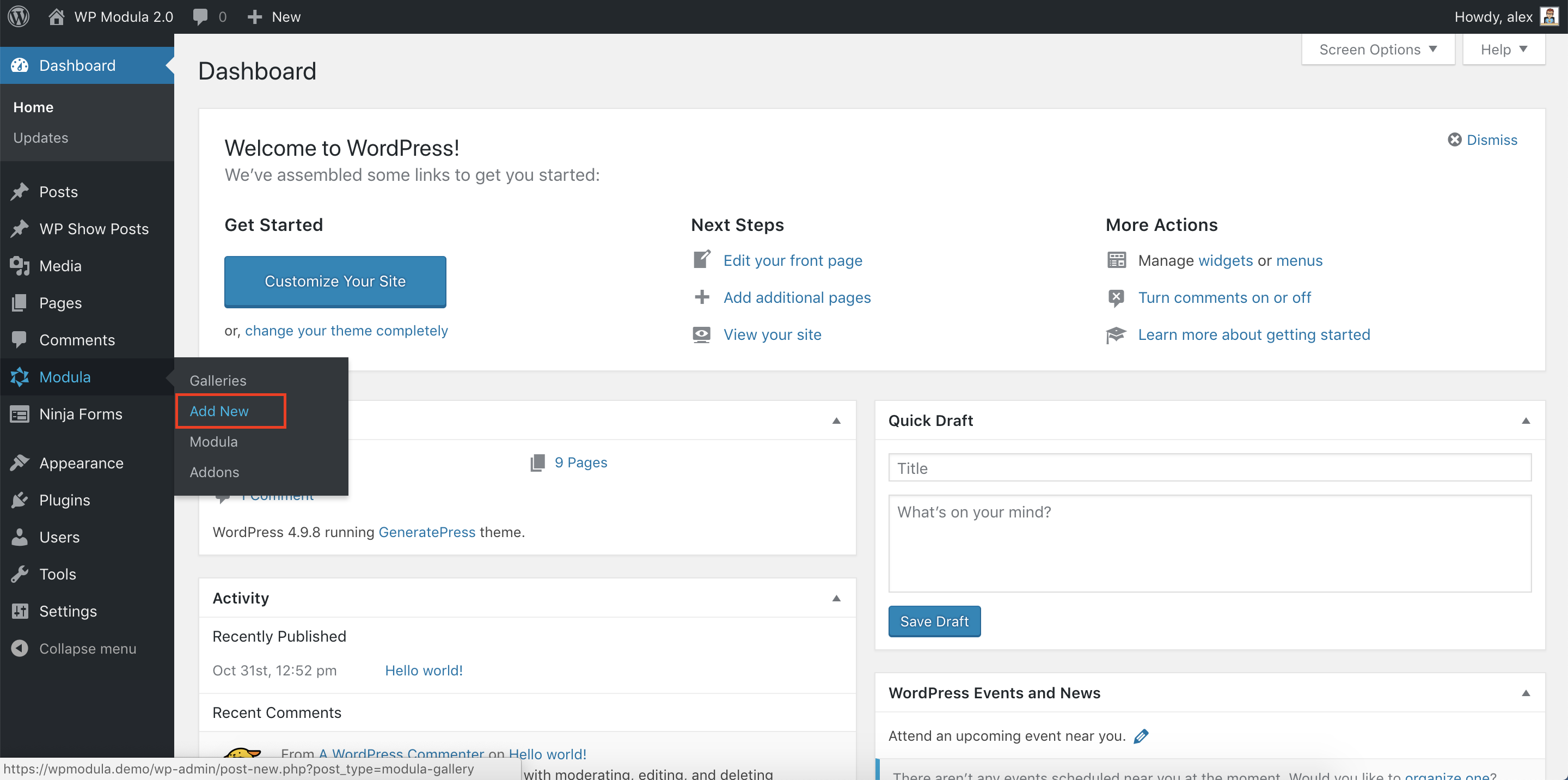 Hope you will clear about the amazing feature of Modula Gallery Plugin. You can use the plugin for your image gallery without any doubt. This really gives you a great experience. So if you like it, then download it today and implement for your website. Here I have mentioned its procedure, have a look once.
Procedure for Creating a Gallery with Modula Plugin
First, select the option "Add Gallery" of Modula
Provide the gallery name and description
Set the gallery width in percentage and height in pixel
Whether you want to display text or not can be set on the next screen so choose your selection
Choose whether to display the caption of the image or not. If yes choose where to display.
Select the hover effect
Apply the minimum image size
Finally, add an image from your library and
Save the setting.
Conclusion
Finally, we did with the overall features of the Modula gallery Plugin. It is now very clear that the plugin is perfect for all types of the gallery which will customize your website gallery in an attractive way. Since if your photo gallery is powerful and eye-catching then you will surely get more traffic on your website. It is very easy to use and implement. You can use its documentation as your guideline which is available in video and written format.
In case of any trouble, you can leave your queries and problems in our comment section. We will return with your solution as soon as possible. keep visiting our website for more useful and interesting articles.
---