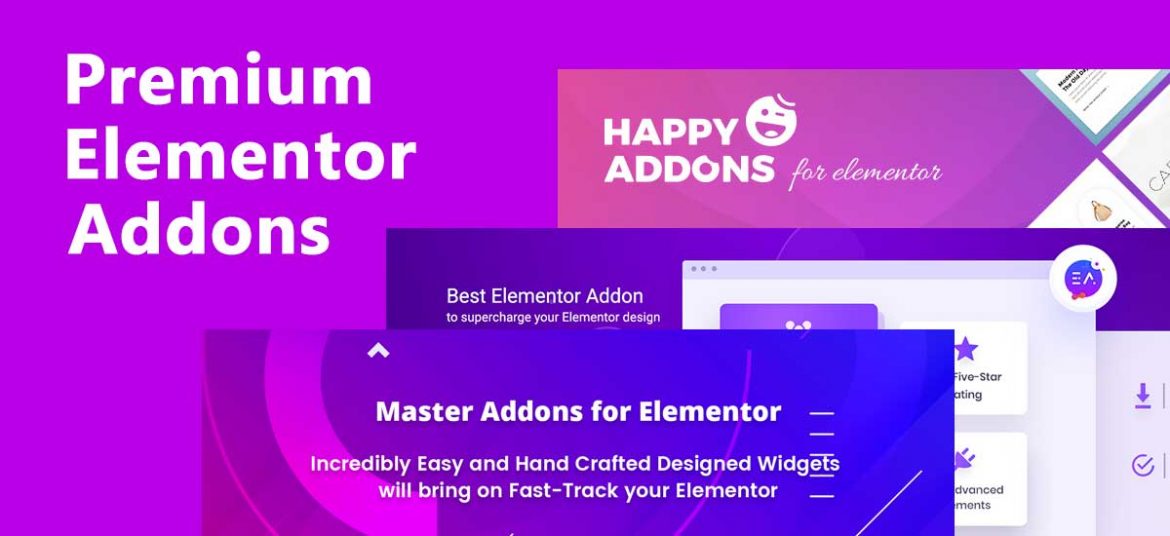 Addons are programs that are used in WordPress to extends its function and help to modify and create the website easily. With the development of addons and plugins, web page designing and building in WordPress has become very easy.
We can develop websites for a number of topics like blogging, eCommerce, affiliate marketing, online stores, brand endorsement, promotion, information, news, travels, photography, and many more.
In today's blog, we are going to talk about the best premium elementor addons for bloggers and affiliate marketers. There are numerous free as well as premium elementor addons for WordPress. Free elementor add-ons are good for learning purposes and for beginners. But in the end, we have to upgrade to premium addons for professional tasks.
You can easily start a WordPress blog with the help of Elementor. Well, let's start the list,
Master Addons For Elementor

Master Addons, the best premium elementor addons is the set of stunningly designed Elementor Addons. It helps to make our website aesthetically appealing and more creative. It contains a wide range of elements that can transform our lame looking website into an 8interesting, attracting and reader-friendly website.
Master addons have inbuilt widgets that uplift our webpage. Those widgets are easy to enable and disable. We can enable widgets as required and give a nice touch to our website. For the proper function of widgets, we have to install the Elementor Page builder plugin.
Features
Animated Headlines
Advanced Nested Accordion
Advanced Multicolor Accordion
Nested Tabs
Creative Buttons
Creative Links
Team Members(Content Drawers, Animation Background)
Flipbox
News Ticker
Image Hover Effects
Animated Gradient Background
Image Hotspots
$19 yearly for a single website, $39 yearly for the business package and $129 yearly for a developer version
---
Essential Addons for Elementors

Essential is a premium elementor addon. It consists of more than 65 elements and extension powering our website to be more designer and beautiful. It is powered by 100+ inbuilt blocks making or website unique and attractive.
It is fully customizable, lightweight and instant loading. It has an excellent support system, ready to help through live chat or direct contact.
Features
Post Block to display blog post with a variety of style
Lightbox and Modal to create Modal Popup
Testimonial Slider to highlight customer praise
Image comparison
Interactive Promo
Instagram Gallery and Feed
Advanced Google Map
Static Product
Flip Carousel
Interactive Cards
Content Timeline
Data Table
Twitter Feed Carousel
Dynamic Filterable Gallery
Smart Post List
Mailchimp
Protected content
Advanced Menu
$29.97 yearly for a single website, $59.97 yearly for unlimited version and $199.97 yearly for a super bundle package
---
Happy Addons

Happy Elementor Addon is one of the ultimate premium elementor addons in the market. It helps to take our website to the next level. It is 5 stars rated and mobile responsive plugin. we don't require coding knowledge to use this plugin. It is termed as one of the most sophisticated and trendy plugins and is trusted by many users in a very short period of time.
Happy addons have introduced an incredible feature called Happy effects having great animation properties. It makes our websites more catchy.
Features
Unique pricing table
Customizable flip box
Advanced Heading
Animated text
Scrolling Image
Image Hover Box
Team carousel to introduce team members
Timeline to view the story of the website
Advanced Tab and Advanced Accordion
Testimonial Carousel for customer recommendation
Logo Carousel for a beautiful logo
Advanced Toggle
List Group
Feature List
$39 yearly for single site,$89 yearly for5 sites, and $189 yearly business pack for 1000 sites
---
Powerpack Addons
Powerpack premium elementor addon is the set of more than 60 elementor widgets and an emerging elementor addon. The contained widgets are creativity and speed.
It is fast, optimized and easy to use. we can launch our website within a minute using a powerpack. Powerpack is a stylish and advanced displaying feature.
Feature
Countdown Timer
Popup Box to show custom option
Page Navigation
Image gallery to create an awesome gallery
Off-canvas Content to create an impressive menu and popups
Showcase Widget to create a beautiful showcase
Card Slider to display nice announcements and posts
Advanced menu
Tile Post to create beautiful tile style layouts
Content Toggle
Table
Timeline
Magazine Slider to create a slider of post
Video and Video gallery to create and embed video
Devices to create stunning mockups to show our work
Fancy Heading and Review Box
Woo-Commerce Elementors
$59 yearly for unlimited sites and $199 for lifetime
---
Ultimate Addons For Elementor

Ultimate Addon is a 5star rated premium elementor addon. It is a unique elementor widget that adds more flexibility and functionality to our website. Ultimate addons will support us to create our website even faster and beautifully.
Using Ultimate addons website building is funnier and easier. It enhances the existing elementor with a new collection of creative and unique widgets. It is lightweight and fast with high coding standards.
Features
Modal Popup
Dual Colour Heading
Before After Slider
Advanced Heading
Multi Buttons
Fancy Heading
Content Toggle
Contact Form7 and Gravity Form Styler
Google Map and Image Gallery
Price List and Price Box
Table
Video and Video gallery
Woo- Commerce Widget
Marketing Buttons
WP Forms styler
User Registration Form
$69 yearly for ultimate addons, $169 yearly for mini Agency Bundle and$249 per year for Agency bundle
---
The Plus Addons

The Plus add-on claims to be designed by experienced designers and developers. It is one of the best premium elementor addons that satisfy all our needs to create a website. It is fully responsive with a lot of options.
It makes our designing larger than life, unique and advanced. It is trusted by a lot of developers and users and recommended by them.
Features
Testimonial Style 1 & 2
Testimonial Center Mode
Testimonials Messy Columns
Client Center Mode
Client Lazy Load
Client Carousel
Client CSS Filters
Client Messy Columns
Client Pagination
Video
Before After Slider
Image Cascading
Dynamic Devices
Switcher
Row Background
Parallax Background
Segment Background
Canvas Background
Gallery background
Blog Metro
Blog Carousel
Blog Filter
Blog Messy Columns
Blog Stagger Loads
Blog Lazy Load
$39 per year for a single website, $79 yearly for 3 websites and $99 per year for unlimited websites
---
AnyWhere Elementor

AnyWhere Elementor is a premium elementor addon is a unique type of plugin that allows us to install elementor pages, library templates and global templates anywhere using shortcodes.
We have complete control over our components. It is a very versatile and flexible plugin to design our web page. We can use it to add beauty to our web page.
Features
Global Post Layouts
Post Archive Templates
Category, Tag templates
WooCommerce Product and category layouts
Global Layouts for Custom Post Types and Custom Taxonomies
Support For Custom Feilds
Design 404 Pages
Design Search Page layouts
Pricing $25 per year for personal $45 per year for business, $99 for unlimited and $250 for lifetime
---
Element Pack

The Premium elementor addon Element pack is the combination of all essential widgets to build and manage website pages. It uses high standard coding to make it a sophisticated plugin. But to use it coding knowledge is not required. 24*7 professional support adds beauty to this plugin.
Features
Carousel
FAQ section to help the user
News Ticker to show news
Post Slider
Post Card
Post Grid
Post Grid Tab
Post Gallery
Post List
Post Block
Post Block Modern
Portfolio Gallery
Testimonial Grid
Table of Content
Testimonial Slider
Accordion
Advanced Image Gallery
Pricing List and Table
Document Viewer
$24 per year for a personal package, $59 per year business package and $129 yearly for developers package
---
Croco Block

The premium elementor addon Crocoblock is an ultimate toolkit for building websites. It provides a modern set of tools that allows building websites faster, smarter, and easier.
It consists of 17 jet plugins, 47 Templates, 150 widgets, and 64 popups. we don't require coding skills to operate this plugin. we can customize our webpage in detail according to our requirements.
Features
Best coding standard
language support
Third-party plugin support
Product pages and listings
Booking Forms and Notification
Remove filters
Listing Grid
Pagination
Dynamic Image
Dynamic Repeater, Meta, Terms
Checkbox Filters
Date Range
Ajax Filter
$49 yearly for design version, $69 per year for Multi-Tool version and E-Commerce costs $69 per year.
---
Premium Addon

The premium add-on is the collection of highly modifiable widgets that helps us to create an awesome and eye-catching website in no time. It helps our website to jump to the next level. It contains 50+ widgets and add-ons. It is fully modular and allows enable or disable the option to prevent overloading. It provides a blazing fast experience.
Features
Content Widgets
Image Widgets
Section Addons
Off-Grid
Review and testimonial
Blurbs and CTA
Social feed
Table, Charts and Anything data
Contact
Fancy Text
Heading and dual heading
Video Box
Counter and Divider
Support and Documentation
$39/year for single-site, 79/year for unlimited version, and $199/year for lifetime
---
Conclusion
Above all the listed plugins are between 5star and 3.5 stars rated. That is to say, recommended by most of the users. we can go through the details and select the proper for us.
we can use these plugins to beautify our webpage and take our work to the next level. I hope this blog broadens your knowledge. please visit the page for these kinds of information and let us help you to develop your website.