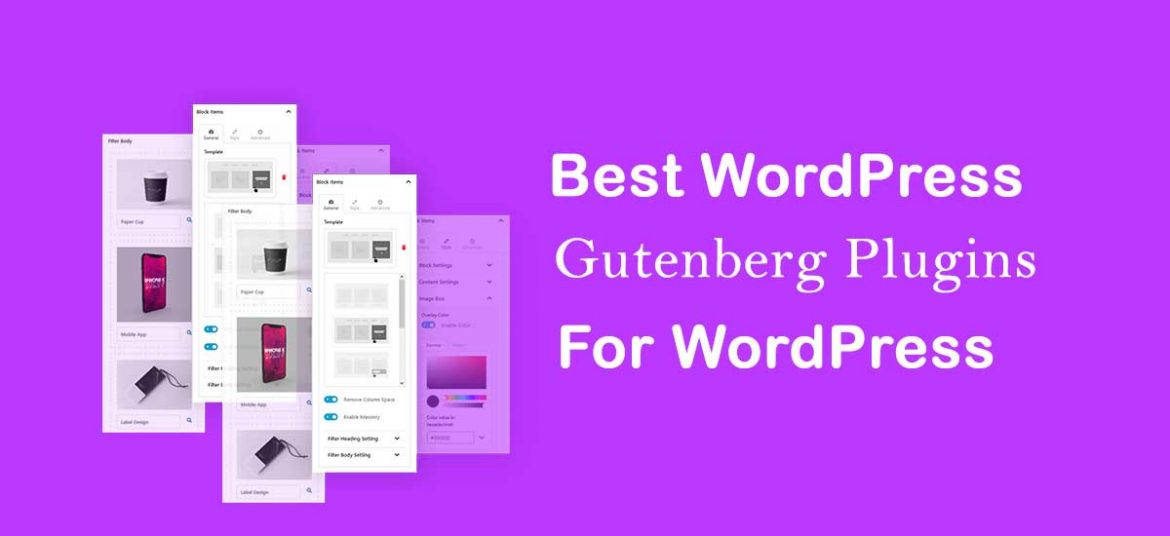 Gutenberg is an editor for WordPress page builder that is developed to merge with WordPress core. Its named is inspired by Johannes Gutenberg who developed a moveable printing press and made printing mechanical and easy.
The second name for Gutenberg is the WordPress block editor. Gutenberg is designed to make editing more easy and creative. It was designed by Matt Mullenweg and introduced in WordCamp Europe 2017. It permits us to handle website content in customizable blocks.
With Gutenberg editor media-rich pages and posts, editing and adding content has been easy and fast. The content is added to WordPress backend blocks. Gutenberg plugins developed by team Gutenberg are already loaded with basic blocks. It is supported by WordPress 5.0 and higher levels.
The main purpose of Gutenberg is to substitute open text editors, clumsy shortcodes, and not-so-interesting virtual user interfaces. We are going to discuss some of the Gutenberg plugins here. I have collected of the best Gutenberg plugin. Let's start.
Collection of Best Gutenberg Plugins for WordPress
PostX – Gutenberg Post Blocks
PostX is an all-in-one plugin for creating beautiful and professional websites. It is finely crafted by the developers of WPXPO who have more than 10 years of experience in the WordPress industry. 
There are 20 Gutenberg blocks and 100s of ready-made designs available to play with. You can create a home page or archive pages with a combination of these blocks and ready-made designs. You can also use the ready-made starter packs to create the home page with a single click. PostX is well known as the best Post Grid Plugin. And, with the introduction of the Builder addon, It is now competing to become the best page builder as well. It has more than 10,000 satisfied users with a 4.7-star rating on WordPress.
Features
20 Gutenberg blocks
Premade block designs
Ready-made starter packs
Builder addon for archive pages
Advanced Query Builder
Ajax-Powered filtering option
Load More, Navigation, and Numeric pagination
Typography Control
Dynamic Gutenberg post slider
---
Blockspare
Blockspare is one of the popular Gutenberg plugins with 30 different custom blocks and 100s of pre-defined templates. This is a completely free Gutenberg plugin and can be used for blogs, portfolios, businesses, and many other niche-based sites.
This plugin is developed by a team of experts developers, thus you will get awesome experience using this plugin. Go to your plugins page on your WordPress dashboard and install Blockspare now. If you get confused, they will provide you dedicated support as well.
Features
30 Different Blocks
Colors, Typography, Layouts & Advanced Options
Empty section block
Star ratings
Detailed documentation including video
Support via email
Affordable pricing for premium version
---
Easy Blocks
Easy Blocks is an emerging Gutenberg block plugin. Its fantastic features of producing multiple columns within a single row. The size difference between Drag and Drop allows more control over our website. Easy blocks contain all types of required blocks to create almost every kind of website. Blocks are available for marketing, services, social, content, and every type of customization for a page or website.
Features
Colorful alert or notification with block
Author profile or Box Block
Call to Action to grab the lead from a landing page
Card Block to highlight a particular part.
Counter up the block to animate counter an offer or sales page with a block
Default Row Paragraph Block allowing to select text color and background color
Feature box
Feature Grid to add multiple features or services in a grid.
---
Qubely
Qubely is listed in the best Gutenberg plugin. It is a fully operational block editor with lots of modification sections, inbuilt sections, and several packs to design a beautiful page. It simplifies the editor to design any type of simple and complex design. It also has a great user interface with the required customization option. Qubely offers box styling options to design stunning and mobile-optimized web pages.
Features
Predefined sections
Modern layout packs
Highly customizable rows and columns
Row video background and blend mode
Drag column resizing
Shape divider
Device-specific responsive control
Unlimited Google web fonts and system fonts
---
Gutentor
Gutentor serves as the WordPress page building blocks with limitless creative options. Gutentor enhances the Gutenberg editor providing many options of incredible blocks that can be used to create and design our web pages with ease and flexibility. It opens up the boundary of page builder and shows the limitless possibility to build a page. Gutenberg has been designed with major modification property for the block to customize any type of web page with Gutenberg editor. Gutentor makes creating a web page just as simple as of few clicks and drag and drop.
Features
One-click demo templates library for ready-made templates and blocks.
Extremely simple, without adding rows or columns just by adding blocks is sufficient to make a beautiful website.
Highly customizable options available for creative designers
Advances options on each block including HTML Tag, Background, Border, Box Shadow, Margin-padding, SVG shape divider, and built-in animations
Individual elements full styling options
Device-specific responsive control
Advanced topographic options which include all available google fonts and system fonts
Inline, internal or external CSS files for dynamic CSS
---
Getwid –Gutenberg blocks
Getwid is one of the best Gutenberg plugins and consists of more than 34 inclusive Gutenberg blocks that enhance inbuilt core blocks and more than 36 ready to go bloc templates for an editor. It is developed by MotoPress, a well-known WordPress tool developer. Getwid enables us to design efficient, attractive content pages making Gutenberg editing easier. By Getwid we'll be able to run multiple possible layouts for any function, fonts, and modify automatically adjusted to our active WordPress theme.
Features
Section Block to built custom page section layouts
Advanced Heading Block for creating catchy headings
Google Map Block
Icon BoxBlock to construct responsive service box
Image Box Block to get deeper into image presentation
Social Link Block
Media and Text Slider Block
Button Group Block to add several calls to action buttons.
---
Blocks Builder
Blocks Builder being the best Gutenberg plugin provides new and customizable content blocks to the editor. It also consists of blocks that help to place social media icons where-ever we need. Blocks Builder is an easy plugin that let us develop eye-catching and multicolor content section. This block adds up more options than the regular plugin. Block Builder consists of light and intuitive features to manage the block and content. Some of the basic settings include modifying colors of fonts and background.
Features
Profile Block to create an author profile
Alert Block for creating an alert box for highlighted content
Drop Cap Block to format text and background-color
Separator block to differentiate between two different text section
Cover Image Block to create a fantastic background image
Map Block to create a map on or site
Price Block to create a nice price table
Tweet Block for Click & Tweet feature
---
WooCommerce Blocks
WooCommerce Blocks make itself in the best Gutenberg plugin list and are the effortless, and most adaptable process to view products on posts and pages. It integrates eCommerce features into our WordPress site. It helps us to create dazzling content, with multimedia and text. This plugin lets us feature products with various filters.
Features
Feature Product Block
Featured Category Block
Hand-Picked Products Blocks
Best-Selling Products blocks
Top-rated Products blocks
Newest product Blocks
On Sale block
Products by Category Blocks
---
Atomic Blocks
Atomic Block is among the best Gutenberg plugin. It set of page building blocks for Gutenberg. It can launch a website in no time and give the full control over the website. Atomic Blocks has inbuilt customizable buttons, to beautifully-designed page sections.
Features
Section and Layout Block
Advanced Column Blocks
NewsLetter Blocks
Pricing Blocks
Post Grid blocks
Container Blocks
Testimonial Blocks
Inline Notice Blocks
Accordion Blocks
---
Gutenberg Map Block
Map Block is the Gutenberg plugin for map requirements for the site. It is a very easy and simple plugin without any multiple setting problems. The map inserted can be used for setting a particular address or co-ordinates.
Features
Display maps
Search and set address
Used to search X, Y and Z coordinates on maps
Zoom in and out
API key- once saved in one block it's used in all user
---
Toolset
The toolset is one of the best Gutenberg plugins. It allows designing websites almost the same as our requirement without coding. The toolset allows displaying separate content for each post. It is very helpful for creators as is saves time.
Features
Beautiful design without compromise
Lean and efficient
Complete package to built advanced sites
Set-up Custom post typed, field and taxonomies
Design templates and archives visually
Creates custom grids tables and lists in minutes
Build custom searches
Display contents on maps
---
The Gutenberg Manager
Gutenberg Manager is listed in the best Gutenberg plugin for its unique property to enable or disable the editor where-ever needed. This requirement arises as we may need to use different editors at that instant. It also helps to disable a specific block of any editor. It has inbuilt features for developing or editing a theme.
Features
It mainly serves for enabling and disabling features
Best for both free and premium themes
Free support and updates
Easy to use custom blocks
---
Conclusion
Above we saw some of the best Gutenberg plugins that we may require. Every plugin has a unique function. We can choose them taking features in our minds. Plugins have been developed to assist us in creating a web page.
All the above-listed plugins are suitable for both free WordPress themes as well as premium themes including blogs and magazines.
As I have seen through some of the Gutenberg plugins like The Gutenberg Manager, Gutentor, Atomic blocks, and WooCommerce for eCommerce is required by every website. As it enhances the website and saves time. I hope the information is useful to you. Please keep visiting for more interesting information.